POTEL ET CHABOT AND THE 20TH EDITION OF THE CITÉ DE LA RÉUSSITE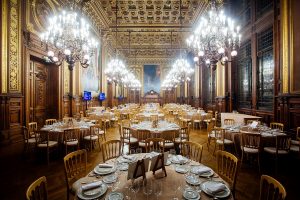 Potel et Chabot was a partner of the Cité de la Réussite's 20th edition held on 18 and 19 November 2017.
Taking "Transmission" as its theme, this edition was once again a resounding success with all 7 amphitheatres sold out for each of the 45 debates. Some 150 speakers from all over the world took part in the conferences, including political figures, CEOs, scientists, philosophers, journalists, film makers, etc.
Throughout this exceptional weekend Potel et Chabot ensured a gourmet service for the prestigious guests.
From the opening cocktail reception given at the Comédie Française on Friday evening to the lunches served at midday on Saturday and Sunday in the Grand Salons de la Sorbonne, not forgetting the different buffets in the peristyle where activities and mini dishes rubbed shoulders with sweet and savoury cocktail canapés…
When the Art of Thinking joins forces with the Art of Receiving, success is guaranteed.