The Pavillon Gabriel will reopen its doors in June 2018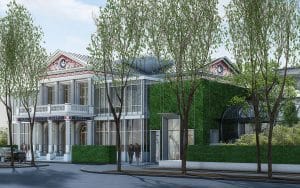 After historical restoration lasting eleven months, the new Pavillon Gabriel offers an extraordinary reception capacity and events potential.
Completely rebuilt and enlarged, the Salon Alcazar offers unrivalled proportions with an additional 4 metres of ceiling height. With a space of 8 metres under the brand new glass roof, all your event formats can now be accommodated.
Bigger, greener and lighter, discover the Pavillon Gabriel as you have never seen it before, located in the Champs-Elysées gardens on the world's most beautiful avenue by clicking here.