POTEL ET CHABOT INAUGURATES ITS NEW PASTRY KITCHEN!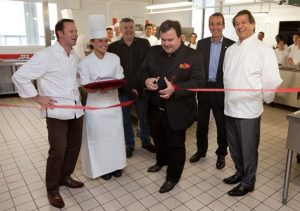 Potel et Chabot has recently inaugurated its new workshop, stove, and kosher kitchen… and it did not stop there!
On the 7th October, Potel et Chabot inaugurated a new pastry kitchen at the heart of its head-office at 3 rue de Chaillot in Paris. We were honoured to enjoy the company of celebrated pastry chef Pierre Hermé at this event.
The new facilities increase the workspace available for preparing gourmet sweets by almost 50%. The top-floor chocolate workshop and dessert and cocktail assembly area are now two or three times roomier than before.
In the former laboratory, the order preparation area has been doubled in size, and a new workstation has been added for finishing cakes, tarts and macaroons.
All this additional space increases our production capacities, supports our business development, enhances our processes and ensures better working conditions for all teams. Furthermore, the expansion also provided an opportunity to invest in new equipment and tools (spray chamber, chocolate tempering chamber, etc.).
Rainbow macaroons, exquisitely flavoured entremets, delicately perfumed cocktail pieces, candied orange, Potel bread… These new production facilities will enable Marc Rivière, Potel et Chabot's head pastry chef, and his teams to continue titillating your taste buds and sugar coating your receptions with confectionary delights made to the same exacting standards and with optimum attention to detail.