THE 2013 THEME OF THE YEAR HAS NOW BEEN ANNOUNCED!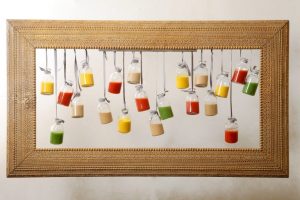 As in previous years, our teams are gathering around a creative theme which set the mood of the coming collection and are opening up new crafts and horizons.
This year, a reflective work has been done with the prestigious Parisian school "École Nationale Supérieure des Beaux-Arts" on the theme of the plastic arts.
Like the "Choreographies", "Variations" and "Signatures" themes addressed in the past, the 2013 theme, "Markets, a theatre of sensory delight", opens up a wealth of possibilities!
Markets may seem far removed from our position as a creator of prestigious receptions, but the two domains actually have numerous points in common: customer service, gastronomy, conviviality, local produce, emotions, stage setting, travel…
When creating our prestigious receptions, we leverage the authenticity and simplicity inherent in markets everywhere, with the same aim of delighting the senses.
Design a unique reception, create a shared feeling of amazement among guests, leverage unexpected textures, flavours, fragrances, colours…
Introduce a surprising vegetable taste into a dessert dish…
Create an ephemeral frame of seasonal soups that delight the eyes…
Highlight the crackling sound of a sugar sphere breaking open to reveal a succulent centre…
Associate cocktail nibbles with the fragrance of a Volcano of natural essences…
Stimulate a desire to touch using velvet stands or cushions of warm water that can be nestled in the palm of the hand…
Our chefs, pastry chefs, scenographers, decorators, sculptors and artists are always innovating, creating unprecedented receptions that stimulate all five senses by combining the gastronomic arts with a wide range of other art forms…