POTEL ET CHABOT CELEBRATES 270 YEARS OF MOËT ET CHANDON IN NEW YORK!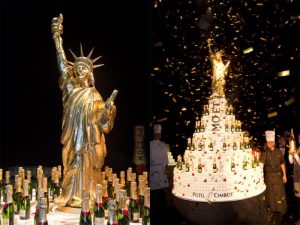 Moët et Chandon celebrated its 270th anniversary on 20 August, at Pier 59 in New York (Chelsea).
As an internationally renowned symbol of French art-de-vivre, Moët et Chandon naturally selected Potel et Chabot to provide catering services that would reflect its unique history and values.
Our on-site and upstream teams leveraged their extensive savoir-faire and high standards to delight the palates of the 500 prestigious guests invited to celebrate the centuries-long history of this exceptional House at the famous Studio 59.
While the Champagne flowed, savoury cocktail pieces (beetroot lobster, maki flower, Baccara chicken, etc.) were paraded on silver trays, and a sumptuous buffet of sweets (strawberry and basil marshmallow, chocolate baguettines, etc.) and pyramids of macaroons (strawberry and rhubarb, vanilla and chocolate, etc.) was subsequently unveiled.
The highlight of this unprecedented anniversary was undoubtedly a truly exceptional birthday Cake named "Centuries of Success Glamour Cake by Moët et Chandon", an exclusive innovation…
This five-tier cake, decorated with over 6,000 red, gold and champagne macaroons, first appeared totally flat… Then gradually, tier-by-tier, it rose and was transformed into a majestic centrepiece, over 3.70 metres high and topped with a Statue of Liberty!