THE 2013 FRENCH OPEN, IN PARIS AND BEIJING…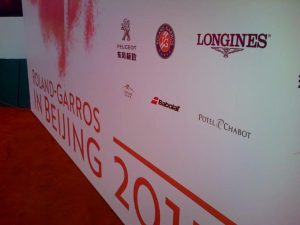 While an 800-strong team was busy within the Roland-Garros stadium, preparing a unique gastronomic experience for thousands of prestigious guests…
In Beijing, our local teams were kicking off a second French Open event in Beijing: Roland-Garros in Beijing 2013 (from 5 to 9 June).
A clay court and a giant screen could thus be found on the esplanade of The Place, one of the city's most modern shopping malls…
Here, close to the Forbidden City, Potel et Chabot created a VIP area that replicated the famous Roland-Garros Village, complete with all the gastronomic services provided at the French Open.
Some 300 guests were present for the official opening ceremony.
Tilefish and wasabi filo, Baccarat chicken, foie gras with figs… served on waxed leaves or in customised boxes…
Delights to whet the appetite of the 600 guests who visited the VIP areas during the championship.
Potel et Chabot is proud to promote Roland-Garros in China, deploying all the passion and uncompromising standards that it has devoted to the French Open for the last 30 years!