THE FRENCH MINISTER FOR INTERNATIONAL TRADE VISITS POTEL ET CHABOT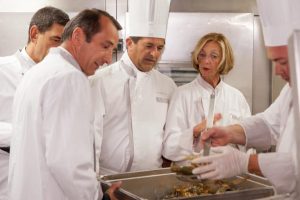 On 4 September 2013, we were honoured to show Nicole Bricq, France's Minister for International Trade, around our laboratory at 3 rue de Chaillot in Paris.
Potel et Chabot is actively pursuing a policy of international development, and implements numerous actions intended to promote French gastronomy across the world.
After opening offices in Geneva in 2012 and Shanghai in 2013, Potel et Chabot is now planning to set up shop in Brazil.
After visiting our premises, the Minister confirmed that she would lend her personal support to Potel et Chabot's international development operations, within the scope of the Competitiveness Pact.
"As a medium-sized company, you constitute a prime target; it is companies like yours that will be the great international champions of the future"