SIGNATURES, A GASTRONOMIC RESTAURANT AT VINEXPO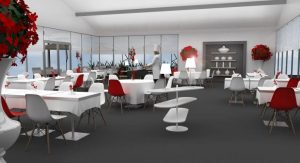 Potel et Chabot welcomes you to its gastronomic restaurant, open throughout this year's Vinexpo exhibition!
Our exclusive, air-conditioned restaurant by the lake offers a calm, modern, elegant dining experience. Every day, this restaurant will propose a new 'Fantasy' gourmet menu*, which you can pair with your own wines, or those selected by our wine waiter.
Reservations can already be made, by clicking on the following link: ReserveYourTableVinexpo
You may also book a private table for the entire week, or even reserve the entire restaurant for a private event (90 settings).
We would be delighted to serve your wines with your meal, if you wish.
In this case, we shall collect them personally from your stand.
Click here to view the menus for the week
For any further information, please contact Maxime Vaux at Potel et Chabot Aquitaine:
+33(0)5 57 26 39 93 or maxime.vaux@poteletchabot.fr
* Glass of Champagne, appetiser, starter, main course, dessert and coffee