PAVILLON VENDÔME, A SHOWCASE FOR THE EXCEPTIONAL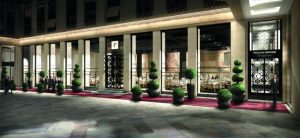 Potel et Chabot is delighted to announce the opening of its latest venue:
The Pavillon Vendôme.
Located at 7 place Vendôme, Paris, this unique and exceptional venue has it all: a highly prestigious address, impressive reception rooms that can be tailored to precise needs, and a graphic, modern design.
Contact the Pavillon Vendôme team to visit the venue and discuss your needs:
Tel.: +33 (0)1 42 61 17 36
Fax: +33 (0)1 42 61 17 48
Email: vendome@poteletchabot.fr
To find out more, download our online brochure or visit the Potel et Chabot's website.