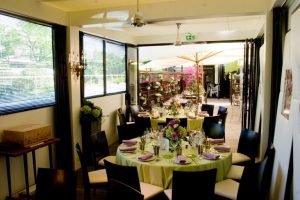 For the last 29 years, over 800 Potel et Chabot employees have poured all their energy and creative resources into producing an exceptional gastronomic event for the prestigious guests invited by Public Relations to the French Open tennis championship.
This year, over 4,700 gourmet lunches and dinners were cooked up in six temporary kitchens built for the event, and served to guests in the various VIP lodges (Village, Club des Loges, Tribune Lacoste, Court No.1, Country, Grand Chelem, etc.)
New this year, a cocktail reception organised in the central alley of the Village accompanied a Gastronomic Workshop led by two of our chefs.
The lucky guests, proudly attired in their new chef's hats, cooked up a series of delights: sushi rice and pan-fried foie gras, veal piccata with orzotto, roast mango and orange sorbet…
During the calm Village evenings, they shared their gastronomic creations and their memories of this unique experience.
Spurred forward by the French Tennis Federation, which has integrated sustainable development concerns since 2008, Potel et Chabot enhanced its own approach to the French Open championship by stepping up its environmental accountability and developing meaningful actions across the board.
As such, all recipes included sustainably produced ingredients and seasonal produce.
Wines, flowers, recycling and energy savings… Every effort was made to make the fortnight environmentally sustainable!