2011 QATAR PRIX DE L'ARC DE TRIOMPHE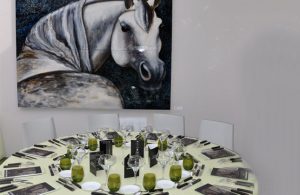 Quarterback, a sporting events agency, expressed its ongoing confidence in Potel et Chabot by asking us to provide gastronomic catering services at the championship village during the Qatar Prix de l'Arc de Triomphe, to be held on Sunday 2 October 2011 at the Longchamp race course.
The Prix de l'Arc de Triomphe is the world's most prestigious thoroughbred horse race. The elegance and passion associated with this event are truly unique.
Come and enjoy the refined and friendly atmosphere of the championship village. Its ideal location, alongside the race track and just next to the finish line, will ensure close-up views of the competing horses. Village visitors may also access the Grandstand for wider views over the race track.
Act now to reserve a private room or a table in the Club area.
For further information, contact: qatarprixarcdetriomphe@poteletchabot.fr