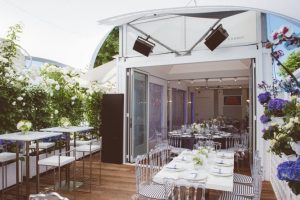 Since 1980, Potel et Chabot has been both happy and proud to serve up a thousand daily delights throughout the French Open championship at Roland Garros.
Roland Garros comprises 60 private or packaged reception areas and several restaurants that are managed by our teams. Behind the scenes are ephemeral kitchens, flower arrangement workshops, sales teams, and everything else needed to choreograph the perfect delivery. As in previous years, Potel et Chabot assigned close to 1,500 people to provide 70,000 top-quality service offerings over the championship fortnight.
Potel et Chabot continued the actions initiated last year to promote sustainable development: conserving bio-waste, recycling glass and cardboard waste, recovering coffee capsules… Furthermore, its partnership with the Le Chaînon Manquant non-profit organisation enabled 13,000 meals to be delivered to people in need, thanks to active support from all the participating companies during the Championship.
Moreover, this year, for the first time, Potel et Chabot created, deployed and managed an online booking platform for the Club des Loges.