ARTS & ELEGANCE RICHARD MILLE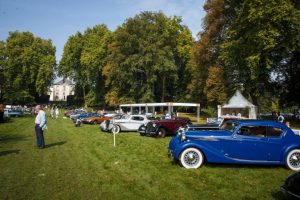 It is with great pride that our teams went into action on 6 and 7 September to bring their expertise to the first edition of Chantilly Arts & Elegance Richard Mille, which brought together more than 10,000 spectators celebrating the grand return to France of the Automobile Elegance competition.
Our company, an ambassador throughout the world for the art of reception à la Française, was chosen to manage the entirety of the gastronomy and the restaurant services on the estate.
For this first edition, our teams provided the Rally lunch on Saturday 6 September in the Château de Verderonne, the gala dinner in the Chantilly stables, the gastronomic lunch on 7 September in the Chantilly estate, permanent cocktails at the stands of the partners and motoring clubs and the closing cocktail dinner in the Château de Chantilly.
But also the restaurant for the staff and the general public! For example, 300 gastronomic hampers were sent to those participants who had pre-ordered them and numerous Vintage Food Trucks catered to 10,000 visitors and participants.
In total more than 3,000 covers were created and served by our teams during this exceptional weekend!