XXVIITH BIENNIAL OF ANTIQUARIES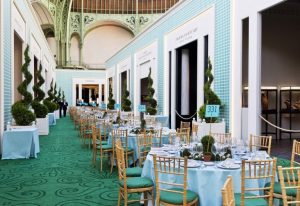 For more than 20 years, Potel et Chabot associates its savoir-faire with one of the most eagerly anticipated events of the year throughout the world for art collectors: the Biennial of Antiquaries, which was held in the Grand Palais in Paris from 11 to 21 September 2014.
On this occasion, as in each edition, Potel et Chabot managed the Gastronomic Restaurant at the Biennal of Antiquaries, where clients tasted a different menu each day, developed by a great, Michelin-starred chef and realised by the cooks and confectioners of Potel et Chabot.
For this XXVIIth edition of the Biennal of Antiquaries, Potel et Chabot held the charity dinner event at Versailles in advance, the grand gala dinner and the preview cocktail and provided all gastronomic services throughout the entire period of opening to the general public, from the "quick-bite" restaurant to the Biennal bars, the brasserie, the gastronomic restaurant…
New for 2014: the reservations for the Gastronomic Restaurant at the Biennal of Antiquaries are made via a platform created and managed by Potel et Chabot.