ARTS & ELEGANCE RICHARD MILLE 2016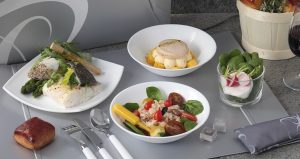 It was with great pride that our teams devoted their efforts on 2, 3 and 4 September to harness their know-how for the third year of Chantilly Arts & Élégance Richard Mille attended by more than 11,000 spectators.
Our teams managed and executed more than 3,000 services in this third consecutive year!
The opening dinner on Friday, 2 September.
A Gala dinner attended by close to 600 guests in the stables of the castle on Saturday, 3 September.
A gourmet lunch for 1,250 guests and farewell cocktail at the Domaine de Chantilly on 4 September.
This weekend has also been punctuated by cocktails on the properties of partners and automobile clubs, catering for the organising teams and the public:
700 baskets and 150 gourmet bags and numerous Food Truck Vintage took care of the catering for the visitors and participants.
A phenomenal weekend perfectly suited for the prestigious event!