A NEW VICTORY FOR FRANCE, A NEW WINNER FOR POTEL ET CHABOT…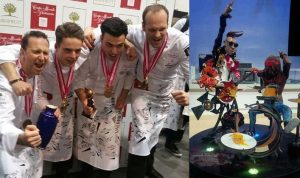 This last January 23rd, France won the 2017 World Pastry Cup, ahead of Japan (2nd position), Switzerland (3rd position) and 19 other countries participating.
Potel et Chabot was strongly represented in this edition: the team was composed of Bastien Girard, R & D Manager of Potel & Chabot, Etienne Leroy, pastry sous-chef of the Cap-Eden Roc Hotel and Jean-Thomas Schneider, a consultant of his firm: JTS Consulting, faultlessly completed the 10 hours of tests under the theme of Rock' n' Roll: appetizers, dessert plates and artistic pieces. Everything happened!
A success was marked also by the efficiency of the team President, Marc Rivière: Head Pastry Chef of Potel et Chabot and World Champion of Pastry in 2009, who coached and guided the team throughout this year of hard work.
Congratulations to the three champions and many thanks to Bastien Girard for bringing this prestigious title to our Company!