THE 15TH CHEFS GALETTE, GALETTE OF THE HEART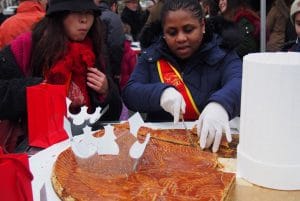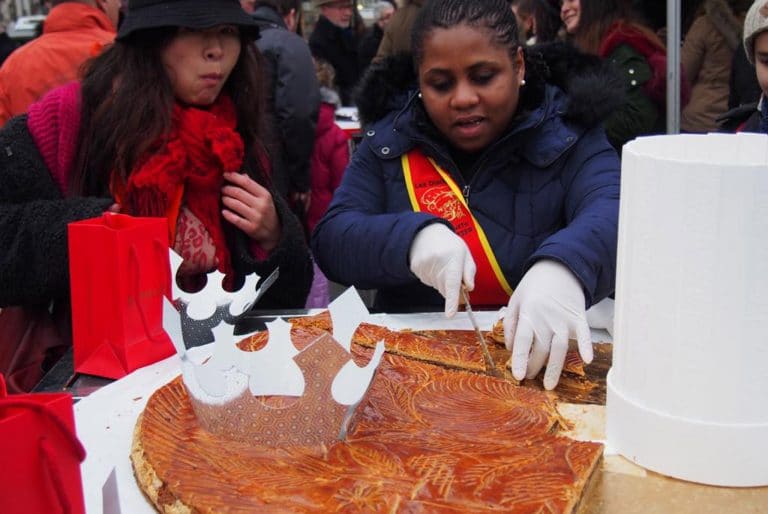 For the 15th year in a row, Potel et Chabot teamed up with the best French chefs, bakers and pastry chefs at the Place Saint-Germain-des-Près from 9.00 a.m. to 12.00 noon on Saturday 5 January to provide the best Galettes des Rois.
Organized for Epiphany under the initiative of the Association of the Disciples of Auguste Escoffier, the "Chefs Galette, the Galette of the Heart" event is for charity and all the funds raised are donated to the fight against an orphan disease, Chronic Intestinal Pseudo-Obstruction disease (CIP).
This year the record was broken with the sale of more than 500 galettes and savoury pies, which resulted in a total of 16,000 euros.
Many thanks to all our generous donors:
Marie Soria et Marc Rivière (Potel et Chabot), Nicolas Beaumann (Maison Rostang), Pierre Hermé, Yves Camdeborde, Christophe Raoux (Peninsula), Christophe Morey (Le Shangri-la), Benoit Castel, Jocelyn Herland (Le Meurice), Romain Meder (Plaza Athénée), Eric Fréchon (Le Bristol), Alain Dutournier, Nicolas Sale (Le Ritz Paris), Christophe Saintagne (Papillon), Olivier Mille (La Closerie des Lilas), Jean-Luc Poujauran, Gilles Marchal, Fransisco Merino (Le Raphaël), Christophe Larrat et Lionel Lallement (Saint Clair le Traiteur), Guy Savoy, Bryan Esposito (Hôtel du Collectionneur), Julien Duboué (B.O.U.L.O.M), Myriam Sabet (Maison Aleph), Jacques Genin, Taillevent (David Bizet), Poilâne, Guy Martin, Prince de de Galles (Stéphanie Le Quellec), Angelina, West in Paris (David Réal), Kaus, La Grande Épicerie, Régalade (Bruno Doucet), Christian Vabret, Marc Veyrat…